Pistol Grips
Stub Type Pistol Grip - 357SFF
Product Description: Full pistol grip of molded plastic with 3/8" female threads on the inlet pipe. 1/4" female on discharge end.
Colors available: red, blue, black, hot pink, hot green, hot yellow, hot purple, hot orange, forest green, dark blue, light blue & black.
Call 1- 800-FLEXIES® for Prices.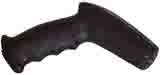 Pistol Grip


Proudly Made
in America